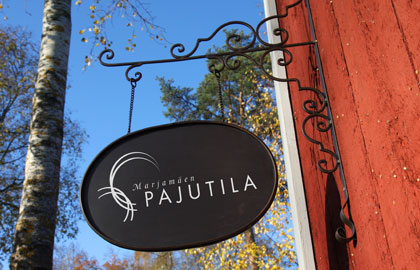 Warmly welcoming atmosphere
Marjamäki Willow Farm is located in the heart of Finnish countryside, approximately 5 kilometres from the centre of Kangasala and 18 kilometres from Tampere.

Visitors can enjoy the peaceful and welcoming atmosphere as soon as they arrive at the gate. Altogether 14 varieties of willow for weaving and fence-making are ecologically grown in the fields surrounding the farm. In addition to the attractive Shop and the Shop Café in the newly-built traditional-style cowhouse, the farmyard offers outdoor sales booths and a new barn brimming with rustic furniture and home decoration products.

Heaven for home decorators

The Willow Farm Shop features Central European home decoration trends: elegant furniture and decoration and household items from France, Germany, Belgium and the Netherlands. The interiors decorated in the Shop introduce various different atmospheres and inspire ideas. The New Barn features rustic furniture and unique home decoration and gift products. The farm yard with its sales booths is brimming with different willow baskets and ornaments. Our product selection is updated daily, and different exhibitions are organised each season.

Delicacies and rich atmosphere

In the Shop Café, visitors can enjoy specialty coffees and a wide selection of freshly baked delicacies and salty pastries. Every weekend, the café hosts its famous cake feast with dozens of melt-in-the-mouth cakes. Overlooking the bustling farm yard and the willow fields, the terrace of the café is an ideal place to spend a relaxing moment.